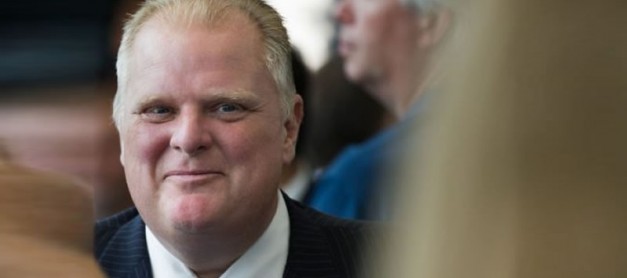 I met Rob Ford in 2010. We had nothing in common – but politics. A mutual friend of mine and of former Premier Mike Harris asked if I would help in Rob's Mayoralty campaign. It sounded like fun.
George Smitherman – once known as Georgie to some of us – aide to Murray Elston – and the brains behind the E-Health and Ornge fiascos was also running.  Easy decision.
One of former Premier McGuinty's favorites, David Miller (dubbed by the Press as "Mr. Gravy Train"), had decided not to run for Mayor again given his declining poll numbers. I'm sure you all remember the glorious garbage strikes and the increased power of the Unions. And how Dalton McGuinty (also dubbed by the media as an even more outrageous "Mr. Gravy Train") had extended Miller's term of office from three years to four.
And I bet that you can't guess whose WWF job Miller "inherited" on his way out of City Hall.   Gerald Butts – who is now Justin Trudeau's #1 guy. Ah the power of the Liberals.
Rob and I met in person twice. The first time was in a coffee shop in the Sheppard Centre – I loved his opening line:
"Hi, I know who you are. I don't care what you did. I only care what you can do for me. Are you as focussed on getting your way as I hear you are?"
I couldn't help laughing – we raised our coffee cups – made a toast – I did my usual "I like to be under the radar routine" and that was it.
Rob Ford won the election. There was elation, there was anticipation and most important, there was hope for a new and corrupt free city administration. No special deals for special friends, no union threats of walk-outs if they didn't get their way, and no more irresponsible spending of our money – taxpayer dollars – down the tube to placate special interests. The budget was back under control and there was optimism.
In 2012, I was asked to get involved in a dispute/conflict between members of the Jewish community and TIFF. Details are in my earlier blogs – but – there was a stalemate. So my friend Sue-Ann Levy who is a first-rate columnist at the Toronto Sun and who also has a dynamite book soon to be published, suggested that I call the Mayor and tell him about it. And I did. And the Mayor stepped up – along with his brother, Councillor Doug Ford and Councillor Frank DiGiorgio. The matter was resolved.
I called the Mayor at home. "Thank you. Members of our community know about your support. Your loyalty will not be forgotten. Let us know what we can do for the next election".
Rob Ford had backed Karen Stintz to be Chair of the TTC – a chairmanship she could never have gotten without his support. They were on the same page in terms of its future – or so he thought. One day she decided that she could do better by jumping ship. Where was her loyalty? When she slunk out of public office, having accomplished nothing, many felt that it was a just reward.
Many of us did not know about Rob's demons until the press went berserk. Casting the first stone is not a positive approach to life and I, along with many others, still considered him a friend and a good Mayor. If I could have helped, I would have. But the disloyalty of some of those who could not have succeeded without his help was mind boggling. Did I live in another era? Is it prehistoric to believe in loyalty?
Why was it okay for Bill Blair, then the Chief of Police, not to declare that he was going to be a Liberal candidate when he stood and pontificated about the Mayor? Or when he gave a sermon on TV about women who might have had anything to do with Ghomeshi coming forward? The Mayor was his boss – and Blair was disloyal. Being judgemental was not Blair's job…except if he hoped it would get him elected to something.
"But that is politics" is the stock and trade answer. Not so. Loyalty is not politics. It is principle.
Once upon a time, the repercussions for some of the betrayals by Rob's former staff and colleagues would have resulted in a chapter from the Godfather. How come it is okay in today's world of tweets, facebook and blogs? Did any of you protest or speak up?
Well I did. I wrote letters to the Toronto Sun, Macleans, Toronto Life and of course, the Toronto Star. Nothing. No surprise – but at least I tried and I do feel good about that. I spent many years working with people who believe in loyalty as their #1 non-personal standards and it is comforting to know that you will not be abandoned or stuck with a knife in your back. Well…mostly not.
So maybe it isn't okay to be disloyal. Maybe we are all just silent because it is easier. No one criticizes you, no one puts you on their black list, no one bothers with you.
It was often a hoot dealing with Mayor Ford. I am proud to have been one of his supporters. He was a friend of my community and many of the projects in which I believed.
Rest in peace Mr. Mayor.