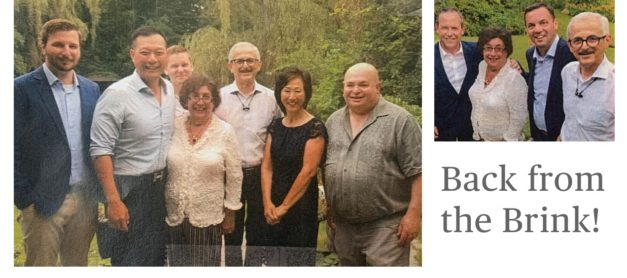 Well, I made it through the night.  I am so grateful – and happy – and raring to go.  My thanks to my children who never left my side and the doctors who saved my life – as well as those who will now monitor the rest of it.
Dr. Ron Somogyi – Chief Surgeon, NY General, Dr. Brian Mennem – Infectious Diseases – NY General, Dr. Herman Dhotar – Orthopedic Surgeon – NY General, Dr. A. Lee – ICU Resident, NY General, Dr. S. Hershkop – Baycrest Hospital Rehab, Dr. Arhanchiague – NY General, Dr. V. Chandurkar – Endocrinology, Dr. Josh Resnick, Dentist, Dr. Fadi Amin – Family Doctor
PSW and nurses from LIHN and St. Elizabeth's Nursing Wound Care – 
Thank you all.
And now, on to politics.  No lectures, no babblings– I am sharing DOCUMENTED facts in the hope that you will be shocked and angry and determined to save our country and our province before it is too late.  And you can only do that by voting.
Justin Trudeau's desperation is not a joke – it is real.  He laughed and smirked in the House of Commons two weeks ago when he was confronted by Conservative leader Andrew Scheer about five new judges just appointed.  All had direct ties to Liberal Cabinet Minister Dominic LeBlanc.  A neighbour. A relative. Donors to LeBlanc's losing leadership campaign.  Conflict of Interest? For sure – but Trudeau's laughter showed his contempt for most Canadians.  He did it again at the Calgary Stampede when he tried to make a joke of Canada's dire straits by blaming former PM Stephen Harper.  
Junior has also forgotten to mention his links to the TIDES Foundation. Based out of Vancouver, it claims to be an environmental charity, but in fact has been the subject of a CRA investigation.  The issue is their foreign investors as well as the CRA's questions about TIDES' abuse of its charitable status "by giving out its charitable number on loan to organizations that aren't charities".  
In 2015, Ross McMillan, TIDES CEO, paid Gerald Butts, who recently slunk off as Trudeau's Chief of Staff, to stay on at the WWF (David Miller, former Toronto Mayor) until the "coast was clear" to come out and work for the Liberals.
Further, the proliferation of third-party spending in the 2015 federal election appeared to involve intentional collusion.  Minutes and emails obtained show at least six other third- party lobby groups – FAIRVOTE CANADA, THE COUNCIL OF CANADIANS, THE DOGWOOD INITIATIVE, UNIFOR, WINDSOR & DISTRICT LABOUR COUNCIL, AND ECOLOGY OTTAWA, conspiring to conduct activities that broke the Act's electoral spending limits.  Notice UNIFOR right in the middle. We filed a complaint in Ottawa alleging that these third parties committed ELECTORAL FRAUD by filing false reports with Elections Canada. Nothing.
As of today, Election's Canada has refused to change the voting schedule from Shemini Atzeret in order to accommodate the Jewish community.  And guess who was, and might still be on the Elections Canada Advisory Board, collecting $1,500 per diem?  Bob Rae.  Nice.
Once upon a time, when the Jewish community had a major issue with TIFF because TIFF had CHANGED their Award event to YOM KIPPUR, Mayor Rob Ford and his brother, Councillor Doug Ford, were asked to help.  And help they did! TIFF's Awards Ceremony was soon back to its original date – no more problem – thanks to the Ford brothers' intervention.  And no doubt Premier Ford will continue his unwavering support with the guts to follow up when necessary. 
Chrysta Freeland's Ukranian grandfather, Mykhailo Chomiak,  was chief editor of KRAKIVSKI VISTI – a pro-Nazi publication during the war.  After the slaughter of thousands of children and their parents over the pits of Babi Yar, he wrote, "Jews got their comeuppance. There isn't a single one left in Kiev today. Without Jews, Kiev is beautiful and glorious".  Chomiak and his friends then "escaped" to western Canada thanks to the Liberal government of Mackenzie King.  Cabinet Minister Freeland has NEVER acknowledged her grandfather's collusion with the Nazis and has even praised him.  Shouldn't someone ask about it?  
Immigration Minister Ahmed Hussen, born and raised in Somali, a country with one of the worst records of torture and genital mutilation of young girls has been fulfilling his promise of "one million new immigrants to Canada".   The Globe and Mail did an exposé last year showing him at the Soya Spot restaurant – his York South-Weston riding – with members of Black Axe, known to the police as having influence over the Nigerian diaspora who the police allege are into fraud, money laundering and intimidation.  Any questions?
Sasha Trudeau – produced the "New Great Game" in partnership with Press TV, Iran's state-run propaganda agency, about Iran's "courageous decision" to defy America and Israel. He claims that Iran's atomic ambitions are for "defensive" purposes only, serving as an effective "deterrent" against Israel's "aggression" and "belligerence".  This from the brother of Canada's Prime Minister.  Is he still hiding out in BC.?
Omar Alghabra, MP Willowdale, the Saudi born former president of the Canadian Arab Federation told Al Jazeera, "on the issue of Iran, PM Trudeau has clearly stated he is for engagement".
PM Justin said:
"Canadians with dual citizenships should not be stripped of their citizenship if they go overseas to fight with ISIS.  We should be talking more about humanitarian experts and aid that Canada should send to the front lines."
His response to the Citizenship guide for new Immigrants that recommended the ban of cultural practices that tolerate spousal abuse, honour killings, and female genital mutilation was, "there needs to be a little bit of an attempt at responsible neutrality.  Honour killings shouldn't be called barbaric".  EEK!!! 
Old news?  Never! PM Trudeau and his brother's views have not changed.  Are any of us in danger? Is this just stupidity or bias against some of us?  You decide.
Oh, Bombardier.  Thunder Bay. Remember UNIFOR?  It is right there – as usual – doing nothing.   Remember Oshawa? Now they are trying to blame Premier Ford for their own ineptness.  What a pitiful group.  
And of course, our indigenous Canadians – less than 3% of our population.  Did you watch the crocodile tears, so bravely fought back by Trudeau as he whined about their mistreatment?  How about 150 years of horror that was perpetrated by corrupt Native leaders…and even more corrupt government appointed bureaucrats?  How many times can one say they are sorry even if they aren't? And then pay out hundreds of millions in benefits to their friends while Native children live in unfit conditions with no drinking water or bathrooms or showers, are abused by druggie parents, corrupt agency workers and too many then commit suicide. Too many times.  So sad.  
OCTOBER IS THE FEDERAL ELECTION.  DON'T FORGET TO VOTE!
And…. I'm not done yet.
The Epstein scandal.  Ten years ago, it was Prince Andrew and Bill Clinton "in trouble" because of their close ties to him.  And now? Find a way to blame Donald Trump. The manipulation of the unionista press is getting scary. Here in Canada now as well.  CBC? CTV? Most newspapers?  
And now some fun. Last week my genius son lamented, "gee Mom, you have aged ten years in four months – but don't worry – I'll look after you – if I have to".   Great.
Then I got a call from my brilliant criminal lawyer daughter-in-law, Debra.  "I think you should write your own eulogy.  When we thought you were going to die, no one knew what to say about you".  She wasn't joking.  
Sooooo – I might just do it.  But not for a bit. I am going out to Don Valley in two weeks to try and play golf with my dear friends Linda and Joyce.  Pitch and putt are probably all I can do. Howard Bateman, another one of my Blog favorites will be one of the course marshals that day.  He will hug me at first – then hassle me and torment me and we will fight about politics – as we always do. But just to be out there will be worth it.
Again, thanks to all of you for your support and kind words.  Be well.