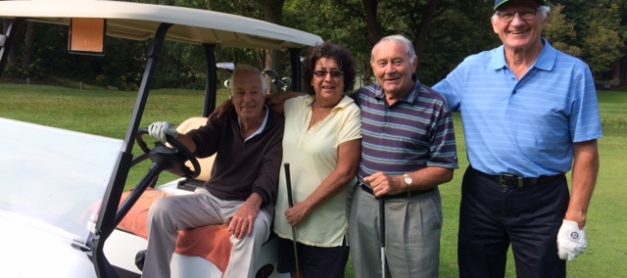 I had such a great day yesterday that I decided to share it with you – and leave out political comments, maybe. Or maybe not. We will see.
Don Valley Golf Club – for many of us, probably the best golf in a central GTA location . Fairways are not zillions of yards but there are diverse challenges on almost every hole. I learned to play with some friends 20 years ago – and I've kept on trying ever since.
Last year I sent a dramatic and personal email to John Tory suggesting that Don Valley could be a "gold mine" for the city in terms of income – and a venue that could be enjoyed by our diverse population. With some renovations, it could be a first choice location for weddings, Bar Mitzvahs, private parties, golf tournaments and for sure would earn big bucks for the city. I did suggest that he would need to hire someone with brains to run it properly and not turn it into a typical bureaucratic screw-up. I got a form letter in response though the Manager of the club did invite me into his office for a chat. It was very pleasant – but – nothing.
Hey, was that a political comment?
There are outstanding staffers at Don Valley – Joanne Linnen, Wayne, Nick, Luis, David and of course, the late George Linnen. I had a hip replacement last year and using their disabled flag lets me get closer to where I want to be (too bad I can't hit the ball as close as my cart can go) and I am able to get out in the fresh air and enjoy the beautiful and well maintained course. It really makes a difference – so thanks again.
And now to the guys.
Lots of males don't like to play sports, especially golf, with females. It isn't that we don't hit the ball as far as they do – it is that we usually hit the balls straight – in the fairway and they usually hit 175 yards off to the sides, into the trees and into the bushes. I can only hit about 100+ yards with my 3 wood at my best – but the hot pink golf balls I use are always on the fairway. I was nervous on Tuesday that I would be really bad and delay their game. The nerves turned out to be good because I have never played better. I guess fear works its own magic.
The three gentlemen you see in the picture are very special – we have played together occasionally over the years because of my friendship with Howard (I hope he is squirming). It is usually when one of our regulars can't and we fill in. Or when the weather starts changing in the Fall and some of the girls who have Florida during the winter give it up.
But some of us won't bow to the cooling weather. After all, the colours in the valley are breathtaking when they start to change – we try not to miss it.
The guys were so great yesterday that I told them that I wanted to write a blog about them – and they were gung ho – even going so far as to give me a bit of personal info to share with you so you can appreciate them as I do.
Oh yes, they are all older than me – phew – so the balance is perfect.
DAVID REILLY
He is on the far right – hat, glasses and a wonderful warm smile. I have never seen him without that smile. This is a big year for David and his wife – they celebrated their Golden Anniversary last week. He graduated from University over 50 years ago and celebrated his 75th birthday in March. He is now retired after working for 38 years in Supply Chain and Technical. His career took him out of Canada for 10 years to Brazil, Mexico, Puerto Rico, England and the U.S. He drives into Toronto from Burlington twice a week to play golf with the guys. He and his wife travel and spend time with their four kids and six grandchildren.
PETER RADL
He is wearing the striped shirt. Born in Hungary, Peter grew up in Germany and became a Canadian citizen when he immigrated here over 50 years ago. He is married and has a daughter and grandson. Peter is a licensed auto mechanic who loves golf and often volunteers to fix or update the golf carts around the club. He is a fun golfer – no negative comments, no sneers, only a warm smile and the occasional joke – at least what he thinks is a joke.
MOI
You have read enough about me over the years – this is about the guys.
HOWARD BATEMAN
He is hiding inside the cart – though I do have my arm around him. Howard Bateman is the former publisher of Toronto Life Magazine. He is also the producer of Jacques Brel is Alive and Well and Living in Paris. He is tall, white hair and must have been quite handsome once upon a time because he is still kind of cute. On occasion, he can be charming. His wife ANNA is an accomplished artist (artsincanada.com/bateman) who has exhibited in such prestige shows as The Artists Project and many North Toronto Artists group shows.
Some years ago, Howard came sauntering up to me at the club house desk and announced that "he knew who I was". Then he criticized my support for Stephen Harper. Challenge!!! And off we went.
And we are still at it! Left wing Howard – right wing "fanatic" Patti. BUT – I did agree with him on Tuesday that President Trump was shooting off his mouth too much when he should have just zippered it – and Howard conceded that the many of the Liberal leaders, provincially and federally, were nincompoops. And he also agreed that the US rejects and illegals pouring into Canada and collecting benefits that he and I were paying for could be a game changer for them. And I conceded that Wynne might still buy her way out of defeat. No winner between us – just banter and good fun.
My last novel, THE THIRD HOLE, was a murder/money laundering story conceived when we came to the third hole at Don Valley and noticed a very sloping hill off the green.
"Good place for a body" said Howard. And that was it. He has been a loyal friend and supporter – he has offered excellent advice – he has always been there if I asked. He is very special – but don't let him know that I said that or he will hassle me even more next time we play.
So that is the tale of my occasional golf with three very wonderful guys. Hopefully we will all be playing for a long time.
Rosh Hashonah is coming. Cooking starts – but I hope the weather holds. Happy New Year!