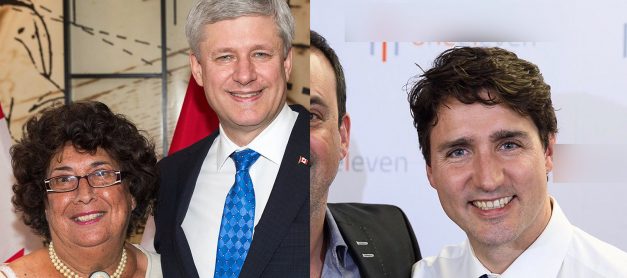 Two pictures that have suddenly changed my world.
Here I am with former PM. Stephen Harper. And you all know who that guy is standing next to one of my sons – current PM. Justin Trudeau!
Eeek! I cringe, sort of, when I think of all the critiques I have levelled at PM Trudeau and his associates. Blogs, commentaries, letters.
Now what am I to do? It is obvious there is a major dichotomy in our family between right wing fanaticism (guess who) and lefty, pinko liberalism (everyone else).
Sonny boy is in the technology business. Along the way, he is occasionally in the company of many political leaders. Having Canada's PM smiling with you in a picture is always good. And I am sure that he would be happier if my political involvements and commentary moved into the sphere of an elderly grandmother. Remember, infamy has its own rewards…and no anonymity.
But how boring would that be? And I have my rights of free expression, don't I?
But what about my duty as a "devoted Jewish mother?
Isn't it written somewhere that my first commitment should be for my children's interests? Isn't that a given? How can I blatantly support the Conservatives? That is like supporting Donald Trump. If I tell you a secret, will you keep it from my son? You got it. I like the Donald.
And when I confessed during Friday night dinner to voting for Kellie Leitch in the leadership race, white faces and choking grunts greeted the news.
"Ma, are you nuts?" was the cry. Well, here is my message.
First, the usual statement. "Free country, free choices, support whoever you want".
Then, the reality. Politics makes our world go around. Some expressions, often over-used but very true – "it isn't what you know but who you know".
So true. In my former life, politics was an Upper and then a Downer. So how do I balance what was with what is?
How do I share mistakes and lessons learned without boring everyone?
And if my son likes the PM and will probably be in his company again, should I zipper my comments and stifle myself?
The answer is simple: YES.
Soooo – despite your shouts of "no, no, don't do it!", there will be no more digs from me at PM Trudeau. No more referring to him as "Junior".
I had dinner with his father three times back in my old life. He was dynamite – a man who made you feel that there was no one else in the ballroom and only your words meant anything.
Back then I was a supporter and Pierre Elliot was very helpful to a group of young volunteers trying to improve housing options for the physically disabled. We were successful – over 5,000 individuals are still living in the non-profit housing facilities we helped to come alive. And though there was much support from Conservatives as well, it was the dynamics of the "old" Liberal party that made it happen.
So, there is now a new reality. I will be tactful and controlled…as best I can. Anyone missing my barbs can re-read old blogs. PM Trudeau is no longer on my agenda. I'll leave that to others.
See what a mother sacrifices for her children? Take care.