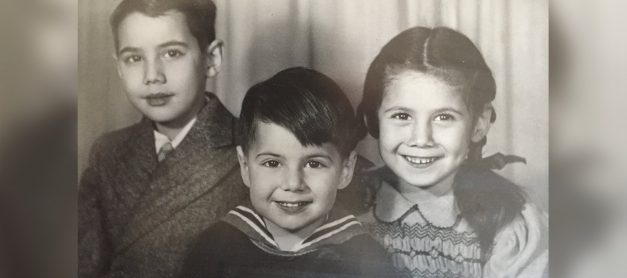 Ten years ago, my little brother Joey died. He did not live to see his fabulous grandchildren.
Last week my older brother Michael, who has lived in New York for the last 40 years, died.  He had cancer. His wife Peppi and I became pen pals when we were twelve years old – she was a member of a New York Brownie group and I was a member of the Toronto St. Albans Brownies. We met in person when I flew to New York on a prop plane, 8 HOURS, to meet her in person for my 16th birthday. And the rest is history.
It is a lonely feeling to have no parents and now to have no brothers. Our lives as children were not easy. Our maternal grandfather with whom we lived as children was a brute. He was born in Russia, the youngest of 13 sisters. He married and had a son there – both killed in a car accident. He came to Hamilton, Ontario – married again – had three daughters – beat his wife who spent the rest of her life in a mental hospital on the mountain, a fact no one knew until her death some years ago.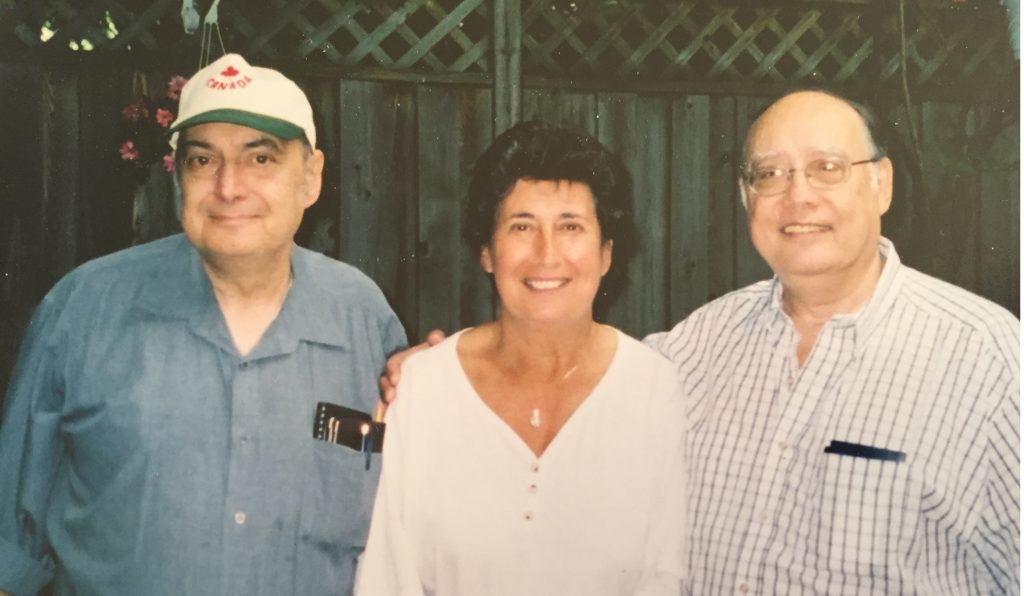 In the meantime he met my grandmother Dina, took her to New York where they got "married" (#3) by some Rabbi, came back to Hamilton, never mentioning that his second wife was still alive and my mother Beatrice was born. So then there were four sisters – ignored and unloved – but that is another story.
In those years, abuse of women and children was almost a given. My mother, who wasn't much better in the abuse department than her father, told me about the time that he chased her in the pant factory he owned. She grabbed a pair of scissors and stabbed him. Nice.
And then my grandmother died. Pretty soon he had a 4th wife – Vela was her name. She fed him overdoses of saltpeter in the hope that he would die – he didn't – she was allowed to divorce him and escape.
Finally, he sold his factory and took off for Arizona. I was 14 years old when the call came from the police – his body was being shipped back to Toronto. I went to Benjamins' funeral parlor to identify him. The bullet (his 5th wife fought back) went through his lower chin and out his right forehead. I looked at him – thought it was interesting to see a real bullet hole and that was it.
I wonder how much trauma that my brothers and I endured affected our own outlook on life.
I am the volunteer librarian Saturday mornings at Temple Sinai. Most weeks I get to dialogue or debate or fight with our Rabbi, Michael Dolgin before Shabbat services. Unfortunately for me, he actually has a brain and it is tough to win points – especially when it comes to politics.
So this Saturday, was sad for me. I said Kaddish for Michael …and also for Joey. Rabbi and I talked about some traditions of Judaism that were comforting- specifically the naming of babies after those who have died. Even though Sephardics name their babies after the living, the rest of us don't. The rumour is that when Moses came down the mountain with our game plan, remembrance was to be a part of our tradition.
My granddaughter Jona, who is six, is named after Joey. Hopefully another grandchild will soon arrive and be named after Michael.
My grandson Max is named in memory of my father Max, who died in 1979. He was a nice guy – one of 8 siblings – and the son of orthodoxy – where prayers and rocking were the alternative to brutality. Neither worked out that well.
And how true it is, and how meaningful, that every time Max's name is mentioned, my father is remembered. And whenever Jona gives a family report on her school events, her soccer games or just smiles, the memory of Joey is right there. And when Jona and her sister see their cousin Max, their shrieks of delight as they call his name are priceless…as is our memory of their great grandfather Max.
One of the brilliant tenets of Judaism – eternal remembrance.
In three weeks there will be a Shloshim (end of 30 days of mourning) service for Michael and a Yahrzeit (anniversary of death) for my father Max. Luckily for me, Temple Sinai makes it easy to have services in memory of loved ones.
It will be an opportunity for some old friends and cousins to re-connect and of course, to do our traditional bagels, cream cheese, herring, etc. etc. It is so typically a part of our Jewish tradition. Take a sad occasion, add a little food and wine and voila! A celebration – not of an event, but of those we have loved and miss.
Remembrance – zeecharon.