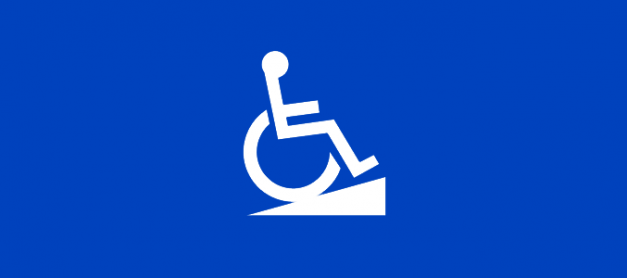 Twenty-five years ago, there were almost no community centres, schools, synagogues and churches that were accessible to adults and children with physical disabilities, including those with hearing impairments.  There was also no affordable housing that addressed their needs.
A small group of community service volunteers, most with very young children, decided to get involved and formed a Task Force on the Disabled.  I was one of them.
Our goal was to create a non-profit housing program for Seniors, the Disabled and their families, including, for the first time, an attendant care program that provides independent living for disabled people requiring limited care. The concept began in a small meeting room – when three disabled young people sat with us and told about the reality of their lives – a reality that included living in institutions among the senile elderly.  The late Gary Sandler was one of them and he joined our team to speak out for others like himself.  (Five years later he would qualify as a resident in the Prince Charles facility).
But the dream couldn't happen without the approval of government – and the politicians;
Municipal –to approve the zoning for the housing location
Provincial – to provide specialized grants for the programs and services
Federal – to provide the housing unit allocations.
 Politicians would be essential to help stick handle the process through all three levels along with the bureaucrats to teach us how to write the fine print.
The road to success took three years. The politicians who helped to made it happen were gutsy, reliable and kept their promises.  Most are no longer in office – but this blog salutes them…and others who might decide to put their pettiness aside and rise, as the others did, to serving their community.
The Task Force began when the Conservatives were in power in Ontario. To say that former Premier William Davis was a class act would be an understatement. Today he is still the honorary chair of the JVS Strictly Business fundraising event and I see him every year – he still remembers our past adventures in the Task Force and always asks about the residents.
Dennis Timbrell, Minister of Housing , Frank Drea, Minister of Community and Social Services and Bruce McCaffrey, Minister of Culture welcomed a group of volunteers to their offices, listened to our presentations, directed their staff to  validate our proposals, and then approved the grant requests. These funds would be used to provide programming as well as the attendant care for the residents.
Provincial support also gave the Task Force the credibility needed to seek the housing allocations from Ottawa.  What did those very special gentlemen ask from us in return?  Only our commitment to create and maintain a successful project and to make our expertise available to any other groups who needed help.
When the Tories lost the next election, the Liberals formed the government.  John Sweeney, the new Minister of Community and Social Services, along with Bernard Grandmaitré, Chaviva Hosek, Monte Kwinter and Ian Scott (yes, it is true, the former AG who called the Starr Inquiry that brought down his government) reinforced the decisions of their predecessors and stood front and centre on behalf of the disabled.  They were available, they were knowledgeable, they returned calls and most important they cared. And even my boss at Ontario Place, Hugh O'Neil, Minister of Tourism, was always available to offer suggestions and challenging options for our Task Force.
Next step:  Housing allocations.  The Feds.  We began when Pierre Trudeau was the Prime Minister, followed for a few months by Joe Clark, then John Turner and finally Brian Mulroney. The Prince Charles project was finalized after his election.
The Task Force was a volunteer team with no political agenda.  Those four Prime Ministers maintained their support to us in large part because of the quality of those politicians who had agreed to help us.
Nothing could have happened without former MP Jim Peterson, Willowdale. .  He was a man of great charm who never lied to us and was always available to give advice.  He was honest, fun and even though he had some wimp attacks (after all, he was a politician) he never let the Task Force down, ever. And when the federal Liberals lost the next election, he maintained his Seat – but still he opened the door for us to The Hon. Barbara McDougall, Minister of State.
Ms. McDougall's knowledge and concern about social housing issues were most impressive. When we went to Ottawa to meet with her in person, she had done her homework and was very clear and decisive as to where she wanted to take her portfolio.  She was also gracious and fun and her commitment to the disabled never wavered.  Too bad there aren't more female politicians like her, especially provincially.
But the bureaucrats still counted – for a lot.  Luckily for us CMHC was receptive to our plans and after a couple of weeks of nervous anticipation, the housing allocations for the Prince Charles Housing Project were approved.
Notice how the men outnumber the women in these real life sagas.  Too much pressure?  Too much time away from home needed?  Don't have the stomach for it?  Those answers are for another blog.
Now we come to the uglies of getting the project completed.  Municipal politics.  And given what has been going on today with Mayor Rob Ford, I think you will all agree that there is nothing uglier than municipal politics.  Though I do want to give kudos to current councillors Frank DiGiorgio and Doug Ford – they are available, they return calls and they are not afraid to follow up on unpopular issues.
Even today, before any housing project can begin, zoning has to be in place, and that is municipal.  Back then, the NIMBY people didn't want to have anyone in a wheelchair or obviously disabled as their neighbours. They tried to stop us by claiming the project had too high a density and would reduce their property value.  Seven floors?  Too high? Too dense?  Now isn't that a real laugh, given the density that is going on in North York today. Average new condos are over 35 floors and rising.  So we had to get enough votes on North York Council to offset their objections. That became an adventure for all of us.  It was new stuff and even though we were inexperienced, we were unafraid and determined to get it done. Luckily,  we had the protection of Canada's best developers to keep us focussed…and we didn't know how much resentment that would create.
Front and centre in support for the project – the late Irving Chapley , a kind and sensitive man and the late Esther Shiner, an absolutely dynamite woman.  She was very clever and very strategic –and equal to the Mayor.  We took a liking to each other and she tried to teach me the better way to move the process along – not by direct action but by subtle manoeuvres.  I wasn't too good at that strategy and I rarely lived up to her expectations.  But once over lunch, she did confess to enjoying some of the dramatics that surrounded me and her support for the Prince Charles project never wavered.  She was there when the votes were counted.
Another key supporter was the absolutely wonderful Alderman Milton Berger, a Holocaust survivor. Now retired, Milton is still a vigorous community member and always has a funny story about the "old days in the old North York".  Alderman Elinor Caplan (she would later move on to become a Cabinet Minister under Jean Chretien) was a brilliant strategist and she stayed right next to us during the whole bumpy ride.
The major hurdle?  Mayor Mel Lastman. This was North York – no amalgamation for many years yet. You know those snide remarks, jokes, snickers you have heard about Mel?  Wrong!  He is clever, he is articulate when he wants to be, he is determined, he is capable of great charm, he knows when to back off, he has tunnel vision when the issue is important enough and …he hates to lose.  In fact, he will go to extreme lengths to avoid losing.  I can relate to that.  Mel is also a wonderful father and has two wonderful sons.
The Task Force quickly learned about quid pro quo – this Mayor had the kind of power that was all-encompassing. His not working against our project was as good as his supporting it.  He was quietly on our side and in November 1985, I agreed to chair his re-election campaign.  My colleagues also volunteered to help.  It was the right thing to do.  Without him, nothing could have happened. This was a kosher form of quid pro quo.   It was also the beginning of a world of political friends, enemies and everything in between.
I became more involved in the community and in 1986, I was appointed Chair of Ontario Place. I was also a member of the Committee of Adjustment, a Board member of O'Keefe/Sony Centre and the MTHA. It was a great challenge and great fun.   I didn't know then how much of a price I would eventually have to pay.
The Task Force kept its promise to help other non-profit housing projects – in Vaughan, in Mississauga and in Toronto. Their sponsors were Chinese, Italian, Jewish and the United Church.  Today, accessibility into community centers, schools, synagogues, and churches is a given.
All the projects that began as a dream so many years ago are still flourishing today. There are now over 5,100 men, women and children with special needs living in affordable housing, some with attendant care.  But the story didn't end there. In 1989, when jealousy and betrayal took over my world, I clung to the reality that this was my true legacy. It is how I made it through the night.