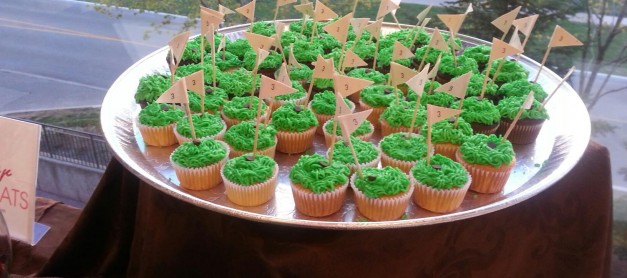 Everything was fabulous!  Over 110 people joined me to celebrate!  I am including an assortment of pictures for you to enjoy.
The cupcakes were a sensation.  StarrTreats made mini chocolate cupcakes with green fairway grass and a #3 flag.  You can see by the pictures how much fun they were – along with other delicious goodies.  Thanks to my wonderful Tara for all her hard work…and my son Randy as well.
The biggest sensation was the gorgeous chick sitting next to me with her long blond hair and her gorgeous face – along with a very svelte body . Oh well – notice my jewels that I wore to try to distract attention from her.  Didn't work that well. Her name is Det. Nadine Teeft and she was critical to the crime scenes in The Third Hole.   Interesting that females can often come up with the most creative, complicated, exciting scenarios when it comes to criminal activities.  Hmmm – any ideas why that is?
Chapters/Indigo – what can I say to properly thank them for the outstanding organization and ongoing help that they provided every step of the way.  I can't mention their staff and management team by name but I can mention Heather Reisman, who is their boss.
Heather, you have an incredible team – it is a reflection of your leadership . Of course, I will mention how many of those who came to get their books signed also spent some money in the store – whew – but you didn't know that would happen before the fact, so I want to thank you most sincerely for your staff who helped to make the Launch very  successful.
I was so happy to see some special old friends:  Bonnie Clark, who came in from Cambridge.  Once upon a time Bonnie was my right hand at Ontario Place – she rode the roller coaster with me  and it was sometimes tough.  Bonnie, and her late husband David Michener, never wavered in their loyalty over the years.
Paul Pelligrini – now the head honcho of Sussex Strategy Group – one of the most powerful lobbyist groups in the country.  When Paul walked in with his young son, it was a stunner.  Paul was a brilliant 'kid' – of course he is Italian – we were so involved in so many political machinations over twenty years ago – and there he was – with grey in his hair!  Memories flooded all around as we hugged. I was so glad to see him.  Of course, he bought my book.
Ruthie Gold – my dear friend – in a wheelchair – but she kept smiling – thanks Joanne for bringing her
Rosemary Aubert – whose latest book is being released at Q-Space on May 30.  I will of course be at her launch.
Mal Coven –The Bi-Way Store's creator and owner –  his brilliant auto-biography  was released last year
David and Audrey Mirvish – I tried to persuade David to make a movie of The Third Hole because it wouldn't work as a stage play – he turned me down
And of course, the brilliant lawyers from whom I got so much strategic input:
Debra Snider – the other half of the 'chick' squad -her beautiful face hides her criminal expertise
Richard Stern – criminal stuff – his sweet face belies his experience with evil
Marvin Barkin – bad stuff – tax, money laundering,
Tracey Stern – OSC Senior lawyer – more bad stuff on illegal stock transfers
Archie Richman – trust transfers, beneficiaries
Thank you – all of you – you helped make to make it work.
There was some disappointment in that we did not get the press coverage we had hoped for – in today's world I am told that doesn't matter so much – it is the internet, twitter, blogs, facebook that spread the word and increase book sales – I hope so.
So many wonderful friends, colleagues and family spent last Saturday night with me – sharing my excitement. Thank you.  I am satisfied with a job well done- I spent the last year giving The Third Hole 150% of my brain, writing skills and focus .  Whatever happens, I know that I tried my best!
And now, life moves on.  My blogs will now focus on the real world all around us – politics, slime bags, great people and some fun projects.
Thank you – all of you – for your interest and your support.
The band is taking a break for a while – but it will start playing again, real soon.