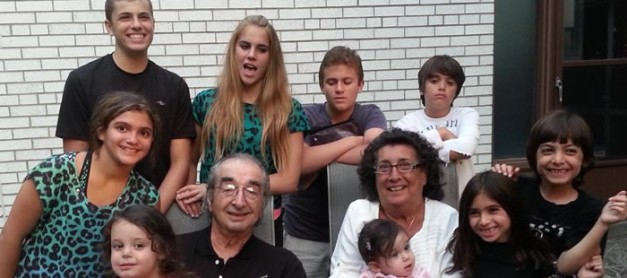 So it is appropriate that I, an internationally published author, write a few words in honour of my current husband's 80th birthday.  I have to be careful that it doesn't sound like a eulogy – mmm- that would have to be only nice comments.  No way! So let's tell it like it is…sort of.  I must remember that there are now adult children and spouses along with 9 grandchildren.  Can they take it?  Well, I'll rely on my writing skills to tell the story without really spilling any beans.
Jerry is ten years older than me.  So was my first husband.  But if there is a next husband, I guarantee you that he will be ten years younger than me – but that is another story.
Ten years is a big age difference when a girl is sixteen and the guy is twenty -five.  It was soooo long ago when I, along with a group of chicks from Bathurst Heights' Grade 13 class, sashayed down to the Beta Sigma Rho fraternity house to be checked out by the frat brothers.  That's where my first husband, a CA student introduced himself.  In those days there was no booze, no weed, no birth control pills, at least not on the open market.  I lied about everything, including my age.  When we decided to go for a marriage license a year later, my mother had to come down to City Hall with us to sign.  Cute.   Do any of you remember those prehistoric days?
Fast forward ten years later.  Two kids and splitsville.  No careers for us young mothers – stay-at-home – our excursions were to Yorkdale where we rented a cart for 50 cents and walked around the Mall for a couple of hours with the kids.  The other option was the park in nice weather and visiting each other with the kiddies in the afternoon.  Parenting was our only career option back then.  Of course times have changed but it is important to understand how it was then so you can appreciate how it is now.
Forty years ago I was playing bridge at the St. Clair Bridge Club.  I looked up and saw this guy with black curly hair smiling at me.  Mmm.  He was cute.  In those years, bridge players who competed played in evening games – my two dear  friends and bridge partners, Ruthie and Linda, now sadly gone, were also stay-at -home Moms so we had no guilt about putting the kiddies to bed at 7:00 p.m. during the week and then leaving to play bridge.  After the game, a bunch of us usually went down to Chinatown for a snack – Sai Woo of blessed memory.
The cute guy was one of those who hung around the club playing bridge or gin rummy only on occasion.  Sami Kehela had nicknamed him "Moon" – maybe it was his looks – but it took a few weeks until I actually knew his real name.  My late father Max, who was also a bridge player, knew who he was.  "Nice guy", he said. "I think he is in the shmatta business".
And so he was.  His father Sol was one of the foremost custom shirt makers in Toronto.  And despite Jerry's mathematical skills, he was pulled out of school at age 14 (no protective laws back then) to work in his father's factory.  He became a skilled cutter and eventually was the "inside man" of several large manufacturing companies.
Jerry and his friends were "Rounders".  Live it up, play it up, visit the bookies, use shared apartments as playgrounds, willing broads, drinking, partying and of course, smoking an occasional joint.  Even today, I understand that some of the "boys" still have a chick on the side.  I'll bet it must be fun watching them in action.
I just burst out laughing sitting here at my computer.  I guess those guys still haven't figured out in the last 40 years that it is their money that is the attraction, not their imagined prowess.  I don't care what Viagra is supposed to do – it cannot be as good as the real thing.
So Jerry and I got married.  He said he liked my cooking specialty – orange duck – but pretty soon he was doing the cooking.  Those of you who have enjoyed his gourmet meals know all about it – suffice to say that he spends lots of time on details that I have no patience for.  Four years later we were pleasantly surprised when two more kiddies arrived. We were really a "yours, mine and ours" family.  And we are very lucky with our kids.  They always enjoy each other – are supportive of each other – especially in these years when they have started having their own children.  I hope you noticed the picture of  our grandkiddies at the top of this blog.
Of course there was the high life of fun and excitement we had for many years – then the Starr Affair – and while parts of that exercise will never go away and have had long term effects, life has moved on in a very positive way.   Jerry handled it well which made it easier for all of us.
Many years ago we decided to join the Valley Tennis club.    In the 50's, Jerry, and his friend Norm Gardner, had been judo champions so he had the physical skills to become a pretty good tennis player And we also thought how silly it was to swing a stick at a tiny golf ball when we could slide and spin on clay tennis courts and get real exercise.  Then my ankle gave out. .  We made some wonderful friends at the Valley with whom we continue to share fun, good times and commitment.
Back then, we had STUPIDLY passed up on following our friends who were joining golf clubs for $5,000.  A brilliant (not really) decision on our part.   So when we took up golf twelve years ago it was public courts for us.  Jerry plays pretty good – once an athlete, always an athlete.  I was never an athlete – only in my brain – so I trudge around the golf course doing my best – BUT –I just love playing golf even though I am not very good.  I have scored in the nineties without cheating three times in my illustrious career. That's what keeps me going.
And so here we are.  Eighty years!  Jerry is one of the few people I know who has lived that long but it is not yet long enough.  My parents, grandparents, my brother, some of my friends, Jerry's mother – all gone long before they reached his age.  Jerry had a heart valve replacement last year – today he walks 5 miles every day.  He has the right attitude and the perseverance to do what he has to do.
Last month the genius son bought him a cell phone and he learned how to use it properly.  Jerry figured out how to put a picture on each contact number.  I can't figure out how to do anything but flip open the cover if my phone rings.  He was even able to change the ring.  I had to go into the Bell store. He uses the computer like an expert – and if I need some information I ask him.
So Jerry, saluté!  I can still see my Zaydie smiling and saying, in yiddush, "may you live for 120 years".   Not so sure that is a good idea – but your family and friends wish you continued good health, continued cooking prowess and most important, continued sharing of life with all of us.
The love and affection your children and grandchildren showered on you last weekend is priceless!  You deserve it!